This is an extremely beautiful song penned by Kalki Krishnamurthi and rendered beautifully by M.S.S. She was always wonderful, but some perverted thinking of mine always strove to find flaws with the greats or those who have been hyped to be great. I have always been dispassionate about Aishwarya Rai, Brad Pitt, Harry Potter (would you say that the series is better than the ones created by Enid Blyton? There was greater variety then and far less hype.) and closer home, Sachin Tendulkar. It annoyed me much to exalt one person while there were many greats in the fields. So it was with my perception of Thiagaraja as well. Have you heard the works of Bhadrachala Ramadas (I suppose he was also called Bhakta Ramadas)? Out of this world. His passion was brimming in every word he employed (do try listening to Eteeruga nanu. I shall paste the lyrics of that song someday). And what about Oothukaadu Venkata Subaiyyer? Yaar ennai chonnalum anjaathey nenjamey is by far his finest piece and so amazingly beautiful to hear. One can sing it with all the dearness that one can conjure and it would still fall short of the devotion, which the poet transformed into ink and words. But neither Ramadas nor Subbaiyyer attained the exalted status of Thiagaraja. Why, pray, tell me why? I suppose I will always be the warrior of the underdogs, I am sure they don't care about being exalted and they definitely wouldn't care to know that a warrior exists for them. I do not despise the famous; I merely wonder why? I got to know more about MSS after her demise, and I grew to respect her more than I could any singer (I still don't like her pronunciations. She doesn't do justice to the lyrics).
I haven't employed the popular "zh" to represent the "y" (as in yonder). I use "yy" (merely to differentiate from "y") itself as I have never understood how, in the beautiful earth of the creator, did "zh" (also used in Zhivago) every produce the same phonetics as "yy". A note to the reader, if Tamil is not your mother tongue, then you would benefit by practicing this syllable. Do you know Marathi? They have a "yla" which has similar idiosyncrasies as this Tamil "yy". Lets give it a shot, nonetheless. Say "yonder". Notice that the tip of your tongue brushes at the base of the incisors of your upper jaw (it would sound silly if they were touching the ones on the lower jaw!) before it produces the sound of "o". Try saying the same word without moving your tongue. Please don't speak aloud, as people mistake experiments for early signs of lunacy! Now, move the tip back to the roof of your mouth and repeat the magic word; I mean yonder. The sound that is produced now when you saw the "yy" is the one to be used at most places where you find a "yy" in the song below. By the way, listen to the song first (whether you are Tamilian or not).
Corrections are welcome
. These are what my mother could grasp from the tape, and I am no master of this language to correct her (though by asking her the meaning of every word, I managed to get her to correct it herself).
Malaipoyyudhinile oru naal, malar poyyudhinile //twice
Kolai kiligaludan kuyyilgal, konjidum velaiyile //twice
Maalaikulavum maarban maruvil, maamani pol mugathaan //twice
Vel ondru kaiyil yenthi, yennaiye viyyunguvaan pol viyithaan //twice
Neela kadalinai pol en nenjam, nimrnthu pongidavum //twice
Naalupuram noki naaninaan, yaar ingu vanthaddenben //twice
Aalilai mel thuyyindru bhuvanam, anaithume alikkum //twice
Maayan marumagan yaar ennaiye, velan murugan enbaan //twice
Chandiran ven-kurumbum mugathil, sanchalam thondruvathe
Bandham illaadhavalo pudidhaiy thodarnthidum uravo
Mundhaippiravigalil unnai naan, muraiyinil mananden //twice
Enthan uyyirrallavo kanmani, yenintha jaalamellaam //twice
Ullam urugidinum oovagai, ootrupperugidinum //twice
Kallaththanamaaga kankalil kanna yyeyya viyyithen
Thulli mayil veeran mohana punnagai thaan purinthaan //twice
Thulli arugil vanthaan en karam, mella thodavum vanthaan
Penmathi pedamaiyal avan kai, pattridu mun peyyarnthen //twice
Kann viyyiththe yeyunden thuyara kadalile viyyunthen
Vanna mayil yerum perumaal vanjanai yeno seythaan //twice
Kangal urangavo akkurai kanavai kandileno
Malaipoyudhinile oru naal, malar poyudhinile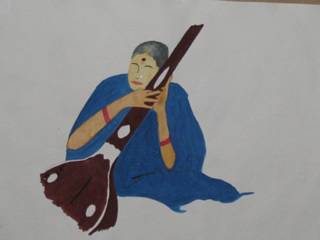 A painting of MSS inspired from a picture in the Sunday Review article that carried the photo. Need to still add the finishing touches...