It is a confusing day to which one opens tired, aged eyes looking around searching for those who helped define life which was being celebrated that day. They say a man is blessed to be able to celebrate his 60th birthday with kith and kin around to relive a few scattered moments and at once make him feel six, sixteen, twenty six and then with their gifts and chapped smiles remind him of the 60 years he has lived.
But his father was no more and his mother was too old to hug him like she did on that sultry morning when he was six and still in knickers while she had had her bath and wasn't supposed to touch anyone. She had brushed back his hair with a loving hand, before she went to have her bath again. He had lost most of that hair and she had lost most of that courage to display affection openly. Now he had his wife and son to hug, although his wife didn't and his son wasn't around.
And confusing days are surprisingly bright in a diabolic attempt to make you lose your guard and expect a wonderfully pleasant day. But he was wise by instinct and of years. He woke up and headed for the prayer room and bowed his silent 30 second reverence before he went about preparing for the day's activities. I remember once asking my mother: "Amma, why doesn't mama say as many prayers as we do? He seems to complete it all in 2 minutes but it takes me a shifty-legged 10 minutes to complete it all" She replied:"Its not how long you stand before the lord but how sincere you are." She still insisted that I say all my prayers for the gods might excuse her brother who, she hoped, was as loved by them as she loved him.
He came over to me and said: "You need to take care of a lot of things today." I was suddenly red with excited blood running to my head and all ready to run around even if there wasn't work. It was an honour to serve him. I never thought he would ask me. He picked me. I was smiling through most of the hodiernal work without regard to the heat and sweat that ran down between one curved lip and another.
And then I watched him go through the rituals like he had walked through most of life; with sincerity, attention and complete dedication. As I watched him live his life again for the next 3 hours I let my ears pick odd conversations which went from one tilted grey-haired person to another.
"Were it not for Kanna then it would have been so difficult to manage my children's education."
"Is the sweet dish ready? Kanna would like it hot."
"Why are those leaves dangling like that? E, come here. Go straighten those leaves. What will mama think of your work?"
"He could have conducted this in a big hall with hundreds of people coming in. But..."
"He doesn't cut down on any of the formal expenditures. Even now. God alone bless him and take care of him."
"Well, it seems that only god has been taking care of him."
"You like this chain. 22 carat. Haan, it was A~ choice. She and Kanna had gone to pick it up for my birthday."
"He has grown thin, no? I wish I could do something for him. But he won't accept anything from anyone. He still lives by the old code."
"Kanna and me were close once. Then I got married and he got married and... Everyone has to take of their own family."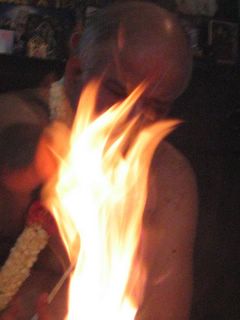 In the midst of all this, mama would call me and give me some instructions which I enjoyed doing. He performed the sacrificial rites without a smile and I hoped no one noticed it.
"Mama, smile! One snap, mama. Please."
and that smile would carry the weight of 60 years on either ear which had stood recipient to praises, accolades, pleadings, accusations, death chants, birth cries of grandchildren of his siblings and a lot more.
As he was completing his sacrificial rites, I went to sit at my grandmother's feet. She placed a hand on my shoulder and I held it lightly. I turned to look up at her, but she was looking at her son with the same love she had once held him on that sultry morning. And in that gaze she hoped to take it all away from him and into herself. Her son didn't deserve what he had been through. None of her children did, but definitely not her son. And she watched him while each tear bore a tale:
An angry boy in torn knickers
A boy afraid of his father
A short tempered teenager
A loving brother.
A boy who climbed to myriad temples praying for this child to be a boy so that he could play with him.
A boy who loved to take care of his sisters and laid down rules for them.
A boy playing in dust while watching boys his age ride a cycle. Should he ask his parents? No, there were other things to be bought.
A boy diligent in his studies. He had to get his sisters married off.
An admission into IIT Madras.
Sideburns flanking a serious boy-man face.
How he held back his tears when his younger sister got married
How he helped ease out troubles in the married homes of his younger sisters
How he waited till he was sure that he could afford to get married
How he prospered
How he shared his prosperity with all
How he gave his wife everything
How he gave everyone nearly everything
How he prayed for a child
How he thanked the gods for the son they gave him
How he spun dreams into the soft downy blanket he draped over his son's chest
How he took care of his ailing sister
How he took care of his dear brother
How he heard jealous remarks but never flinched nor stopped helping those vile tongues
How he loved life
How he took everyone into the life he loved
Those toys and chocolates he bought everyone. Save some money Kanna! What use amma? Look at them. See how happy they are?
How he rose and then...
How he took care of his ailing father.
How he never let his father apologise for anything and let him die with his head held high. At least to others...
How he never fought with anyone, not even his wife and child
How he made sure his son got the foreign education he so sought
How he bore the brunt of time and misfortune but always greeted everyone with a genuine smile.
How he forgot to smile
How he forgot to love life
How he stoops under the telling of time
How he still holds on to the basic tenets of a good man
How his trembling hands perform the sacrifice earnestly
How I wish I could hug him like I did in the kitchen that day...
Amma, today is my birthday, amma.
Kanna, may you live like a king that you are to me and to all who know you truly. May you find peace. May you find joy. May the gods stop torturing you. May you get your smile back. May you find that bounce in your step. Kanna, may you be my son again. In this life and in every life of mine.
Her grip tightened around my shoulders and I turned to look at my uncle. He poured the last offering into the sacrificial fire and he seemed to ask: What am I celebrating?
I hope the fires replied thus:
Hear perfect man, you shall celebrate the lives you have touched and infinite be they although only a few gather around you today to be a part of your life as they have always been and to make you a part of their life as you have always been. Hear son, you shall celebrate the joy of giving without plot and design. Hear dear son, you shall celebrate the joy of instilling happiness in many lives although they forget in the midst of their reveling. Hear dearest of sons, celebrate the joy of having so many eyes turn toward you although I burn brighter.