I have no clue on how I should start this post. I have this vague feeling that I must write, and write I will, knowing that it might end up as a huge crowd of words which
make sense to none but me, and to me only till tomorrow, but I do not know where to start. Very little countable things happened to me last week. I was a shade unwell, although the illness might have been more in the mind than anywhere I could place a finger on, and I really haven't figured where to place my finger when someone asks me to point out my mind!! And it is weird how my cursor jumps back 2 lines when I hit the ctrl and "S" together, like a kid playfully, arms akimbo, taking a step back when I ask her to come over to me.
I suppose I owe my reading for this week to
Amrita
. I owe my reading to my English teachers in school, but the topic I owe it to Amrita, and that is fair. A certain amount of reading was forced into me by
SensiblyStoned
(SS) as well, although they (obectivism and nanophotonics) earned themselves a cursory perusal unlike the tease which Amrita fed me. Speaking of teases I must admit how annoyed I was when SS quite clearly guessed my weakness to search and read up about new information. I was so disappointed that my ways were wandering naked in my writings, and I wasn't suave enough to guise them in more opaque garb though less pretentious. Well, I did read about nanophotonics, but I digress. I offer you to search for the word pedantic in this post and read thereafter (and a few words before) if all you seek is quick entertainment, which is a fair thing to seek.
This post is more about what Amrita did to make me stop sharp and short in my tracks and listen. It is very interesting and enticing when one throws tangy words at me and more so, look quizzically at me and ask, "What? Didn't you notice?" And I am all aflutter and busy understanding what I missed. To miss something can be extremely exciting, for it tells me that I have acknowledged the worth of something else more and enough to miss something which someone sees as stark and obvious. Isn't it so? Once while I listened to a piece of music and was lost in the words, I was thrilled when my cousin walked up to me and said "Notice that tring tring in the song?" and I stopped the music and restarted the piece. Then I watched out for the tring tring and the words were all around me like warm scented water in a bath tub. Amrita, I am sure with least design and machination, threw the following words at me: Stream of consciousness. Please read it again. Taste it. If you aren't off to know more about it, then I have failed to seduce you with the efficacy that Amrita's comments had. Oh! do indulge me by saying that you are reading on because you feel that this post might have enough about "stream of consciousness" as you might care to gather, and you wouldn't be faulted in assuming so, in as much as this post being a source of information. You still here? Damn. Let's try again: stream of (lick your lips) consciousness.
Well, let's go on together. The first time I read it, it simply kept ringing in my head and the constant voice saying "Maybe she is simply being nice" kept me away from wondering too much about it. I had heard the idea and phrase earlier and had associated it with Faulkner. Mind you, I refer to the writing gushing out of stream of consciousness more than anything else in this post. I might present other products of it, like a shrewd shop keeper trying to keep you longer at his store with the hope that your feet might find roots there and buying something might serve as the only means of deliverance, but writing is what I am most interested in. Faulkner's "The Sound and the Fury" is his most talked about work and it is funny that the title derives from Shakespeare's Macbeth's soliloquy (Act 5 Scene 5) where he mumbles thus (upon hearing that the queen was dead):
She should have died hereafter;
There would have been a time for such a word.
To-morrow, and to-morrow, and to-morrow,
Creeps in this petty pace from day to day
To the last syllable of recorded time,
And all our yesterdays have lighted fools
The way to dusty death. Out, out, brief candle!
Life's but a walking shadow, a poor player
That struts and frets his hour upon the stage
And then is heard no more: it is a tale
Told by an idiot, full of sound and fury,
Signifying nothing.
Interesting the way he looks at life. Out, out, brief candle! Life is but a walking shadow... aaah so interesting. A walking shadow he says, not a living one. Struts and frets his hour upon the stage and is heard no more... so true. Shakespeare sure had the gift.
Why is it funny? Well, neither Shakespeare nor Macbeth tickle me as much as the connection (and did you know that in Old English it was spelt connexion?) that a work stemming from a stream of consciousness find its stamp, its title, which is the only thing allowed to repeat on every page of a book, from a soliloquy. An elderly gentleman, who found himself on my blog about Taoism, asked me thus:
"U prefer soliloqy why?Can U not meditate or analyze or ponder while U are walking,eating playing ,while with others sharing something? And why do U say devil while in soliloqy. Why not angel?Why not nothingness(Nihilism)"
I shall not go into that, but spend some time settling the confusion I might have unknowingly created in your mind. Please read on , and I know that might not be how you would prefer someone to settle your confusion, that is, by requesting you to read on, but I assure you that what I bring to you hereafter might help you reach that state of "Aaah".
When Amrita re-stated her opinion, and what might that be? if you wonder, it was that my manner, and I don't use the word "style" as I shall soon explain why, so manner it shall be of my writing reminded her of what she had heard, and perhaps been audience to, of the concept of stream of consciousness writing, and now that you are comfortably in context, let me continue; when she re-stated her opinion in another comment, I was intrigued. I wasn't ready to let it ring in some dark recess of my bulb -- and I borrow this from what I read in Douglas Hofstadter's "Godel Escher Bach" -- atop my shoulders. Stream of consciousness. I decided to pack bags, go out and figure out what it exactly was.
Since this is not a post on the history of the "stream of consciousness" concept, I shall spare you and my fingers from discussing it. It is interesting that Henry James's (who gave us Wings of the Dove, Ambassadors, and other interesting books) brother William James coined this term way back in 1892. But those who made it famous came later (not many have heard of Dujardin). Works of Joyce, Faulkner and Virginia Woolf are noted for their style akin to what is expected when one writes in a stream of consciousness.
Let me now tell you what exactly it is. Firstly, what I have understood it to be. I understand the manner, and I shant call it style or technique for I see conscious cunning in them which, I believe, cannot exist while one wades in the stream of consciousness, so I insist that it is a manner of writing in which the writer very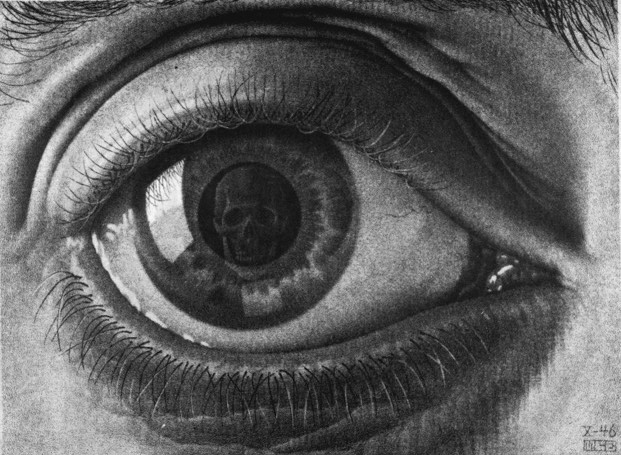 clearly removes all dykes necessitated to write coherently, usually chronologically and ensuring that the theme, the leitmotif is not lost. It is, in simpler words, putting down things as they come to the mind and as the senses are made aware. So while one speaks about the well dressed man crossing the road, in a novel which could be any that you might pick from a rack, the writer is unable, mind you, it is inability and not craft, to prevent mentioning about other things that come to mind in the form of sounds, smells, memory, parallels, etc. So the reader, though fairly drained of his attention, is engaged in whatever the character goes through at each point of time, choosing no particular object of a particular sense over another. And what better phrase to employ than stream of consciousness. Let me pause here. I like the phrase.
I would suggest you visit this
link
, to know what The Columbia Encyclopedia has to say about this. But whether you do that or not, I would try with what lies in my capacity to coax you into visiting this
link
and read William James's address to teachers. Elsewhere I read a terse but fairly clear explanation for stream of consciousness writing: a special mode of narration that undertakes to capture the full spectrum and the continuous flow of a character's mental process. Why can't I make what I say as terse as this? Let me try. Presenting a character's complete recallable perceptions, sensory or otherwise, in writing. There you go. Terse and tasteless. One must read, oh! I can't order that of you but let it be read as a request, this
article
from the Literary Encyclopedia.
I just realised that I have written a lot. It does get tiring to realise that, although the act of writing itself is invigorating. A friend of mine recently told me that my mail to her was more than half her dissertation. I suppose that is another, albeit intellectual, way of saying that I go on endlessly.
So, after gaining an understanding of what being in a stream of consciousness was, I decided to read Ms. Woolf and Joyce and Faulkner to understand how it reveals itself. I shall spare a separate post to discuss Mrs. Dalloway by Ms. Woolf. She is amazing, simply amazing. I wanted to discuss it right here, but I realise that length and boredom walk hand in hand.
Then I returned to my writing. I read nearly all my pieces on this blog and in my journals and elsewhere. I assure you I was as critical as a jeweler is of a diamond. I was glad that I could agree with Amrita's opinion. The characteristics of writing in a stream of consciousness include the following:
1. Seamless translocation to another perception or idea while seemingly involved in one
2. Involves senses and the works of the mind pertaining to these senses
3. Interior monologues, or soliloquy (see? I told you I would connect them all for you before you left for bed)
4. Long sentences (Joyce wrote really long ones. REALLY LONG)
Since I could see a little of all of these in my writing, I would agree with Amrita's opinion. But let me be honest here. This post should have been out a few days ago (I spent the night reading Mrs. Dalloway with the urgent need to complete this post, but ended up falling in love with Ms. Woolf). The reason I held it back was simply to lose my interest in agreeing with Amrita. Once, I was able to shed my interest, I revisited the issue and couldn't help but agree with her.
I shant be so pedantic and quote portions of my writing which shall go about to establish that, but I bare myself a little bit and hope to gain credibility, thereby.
I suppose my need to concur with Amrita in her analysis, stems from the exciting promise of being called (on my mobile "called" is 2 hits on 2, on 5 and 3. 2+3=5. Very interesting word) crazy. I am not sure how many people have this fetish of being called crazy. Mind you, there is nothing derogatory about it. It is like being called a bookworm or geek or ... you know, nice things wrapped in awe and inappropriate words. To be known for one's thoughts and not for one's tangible repertoire (pronounced: re-perth-wahr) of qualities and characteristics is an accolade in itself. Though I must confess the fancy of dying to an illness of the mental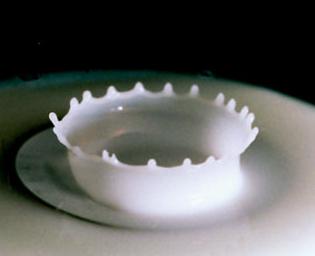 faculties (in their physiological or in their esoteric sense) holds me in its grip and it has been several years since I have felt it slacken.
So how did stream of consciousness and craziness tie themselves up together in eternal bonds? you ask while, I hope, you do grant me the recognition of dovetailing stream of consciousness and soliloquy fairly well. This
article
from the Harvard Gazette should be an interesting read to those who raised that question (and now to those who see Harvard and wouldn't want to be amongst those who haven't read something from THERE!! ;-). I shall quote what I find relevant (although the article's title seems to be about irrelevance):
Focusing on every sight, sound, and thought that enters your mind can drive a person crazy.
and then the article goes on to share this anecdote, which I, for my part, share with you:
A man is driving past a mental hospital when one of the wheels falls off his car. He stops and recovers the wheel but can't find the lug nuts to secure it back in place. Just then he notices a man sitting on the curb carefully removing small pebbles from the grass and piling them neatly on the sidewalk.
"What am I going to do?" the man asks aloud. The fellow piling the pebbles looks up, and says, "Take one of the lug nuts from each of the other wheels and use them to put the wheel back on."
The driver is amazed. "Wow!" he exclaims. "What a brilliant idea. What are you doing in a place like this?" he asks, nodding toward the mental institution.
"Well," the man answers, "I'm crazy, not stupid."
As you might note, there is no moral high on which my acceptance can place me, neither can I claim to be recipient of greatness, because stream of consciousness writing in itself cannot belong to anyone. I was recently trying to explain the same thing to a friend of mine, but I digress. I believe the higher consciousness, or lower if you will paint a base consciousness from which we deviate by knowledge or inattention, should be allowed to rule one's activities. Well, I can surely escape blame!! ;-) I am of the opinion that conscious stream of consciousness writing cannot be pure stream of consciousness writing. OOOOH WEEEH!! That was a lot of "con" in that sentence ;-)!! I suppose there is a lot of "Amrita" in this post too!!! :-))
I would like to thank you for making my week worthwhile.